Introduction
Plastic Recycling Business is very diverse by nature. The waste management business plan is using for two purposes. First, it is considering a guide for proper planning for at least five years. Secondly, a business plan is written for investors, as a lack of capital is a huge barrier to success.
Types of the recycling business
Recycling business can be of different types. It can collect rubber, process and resells crumb rubber for tire making. This business may also recycle fabric into apparel for customers to protect the environment. Therefore, it should clear to the investors when making recycling business plan.
Frequently asked questions of the recycling business
When making a waste management recycling business plan, consider asking the following questions yourself –
How you can ensure your business growth with product line?
How many years of management experience you have in this industry?
Which technology you will be using in recycling products?
What are the types of equipment needed to stick to your operating plan?
Landlord business plan
Helps commercial tenants get landlord approval.
Industry and Competitive Analysis
With the increasing demand for recycling, the waste management business should analyze economic benefits over a commodity cycle.
The United States Environmental Protection Agency (EPA) has introduced new rules for recycling, which includes the process of collecting and processing of materials. It works on a simple principle of "Reduce, Reuse, Recycle".
However, there are certain risks you should consider when making a business plan for recycling company.
Negotiate Changes in Contracts with existing Suppliers
Location and Population in Your Area
Needs a lot of manpower and capital
Marketing plan for recycling business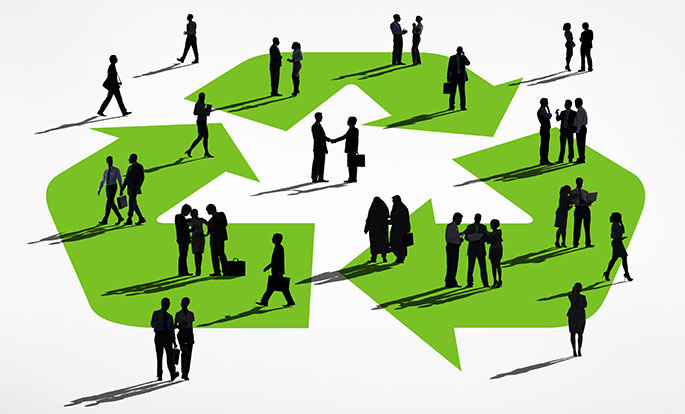 Marketing is the core of any business. The core objective of a business plan for recycling and waste management is to increase profitability and sales. To help you further, here are your target audiences –
Householders
External groups – Community, media, and other local groups
Internal groups – senior officers, elected members, and local government staff
Collaborates
Products
Some of the products those are used by the recycle companies are- Aluminum, Plastic bottles, Newspapers, Steel cans, etc.
Recycling needs certain methods and products to reduce solid wastage. Collecting recyclable materials, reprocessing or manufacturing them into new products, and buying these products are the three important processes of recycling.
Any questions? Get in Touch
Financial Plan
Well, the overall cost of garbage recycling business plan relies on the types of materials to be processed. Here are some basic start-up costs with some potential costs –
Processing – $1500 per month
Drop-offs – up to $1000 per unit
A staff of at least five employees, i.e. up to $2000 per week + taxes, social security, and insurance
Equipment cost – up to $5000 to $10000
Management recycling business
The sample business plan for a recycling company can include having an efficient technical team, who will help you run the company and set up a recycling plant. You need to obtain the permit and license from the state, federal, and local government before starting operation.
How to order writing business plan recycling
Your garbage recycling business plan should be complete and able to address the unique features of the industry. OGS Capital works with companies closely to develop a business plan for tyre recycling to attract investors by presenting reasons why recycling company is a good investment for economy, funders, and environment.
Download Recycling Company Business Plan Sample in pdf
OGS capital professional writers specialized also in themes such as shoe business plan, business plan for a distilled, skateboard store business plan, jewelry business plan, greentech consulting business plans, scrap metal business plan and many others.
Illustrative business plan samples
OGSCapital's team has assisted thousands of entrepreneurs with top-rate business plan development, consultancy and analysis. They've helped thousands of SME owners secure more than $1.5 billion in funding, and they can do the same for you.